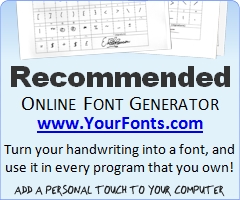 I used this service for a couple gifts last year and it worked great. This is one of the fastest and easiest font creation services I have ever used. For only $9.95, I can assure you that letting someone create their own font that they can use on any computer is a one-of-a-kind gift they will always remember!
How do I give this item as a gift?
1.) Go to the website and download the forms.
2.) Present the forms to the receiver (I like to wrap them up in a shirt box with a little note explaining they have been given their own font as a gift!). Ask the receiver to fill out the forms and return them to you.
3.) Upload the forms back into the website.
4.) Review the font... if (and only if) you are satisfied, you can download it to your computer.
5.) Save the file to a CD and present it to the gift receiver.